VisualSonics Vevo 770 (CTAC)
Book Now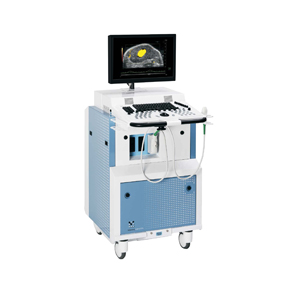 VisualSonics Vevo 770 High-Resolution Ultrasound
High-frequency pre-clinical ultrasound scanner for imaging and measurement of in-vivo specimens. The scanner has pulsed-wave Doppler for quantitative blood flow velocity and waveform measurements. The M-mode of the scanner monitors tissue motion, which is useful for characterizing blood vessels, heart dynamics and wall thickening. The scanner is equipped with 3D and power Doppler imaging for visualizing blood vessel branching and blood flow patterns spatially and temporally. The scanner's Handling Platform maintains core temperature and monitors the ECG and other physiological measurements.
Software: VisualSonics Vevo 770 v3.0

The system includes four different ultrasound scan heads (probes) which have varying resolutions and focal lengths:
Probe #708 – 55mHz, 4.5mm Focal Length
Probe #712 – 35mHz, 9mm Focal Length
*Probe #704 – 40mHz, 6mm Focal Length
*Probe #707B – 30mHz, 12.7mm Focal Length

The Vevo 770 system includes an isoflurane vaporizer unit for in-vivo experiments, but users must provide their own isoflurane and charcoal scrubbers (two charcoal canisters are required.) Medical grade oxygen for running the vaporizer is provided with the system. Users must provide their own ultrasound gel and any other necessary reagents/supplies for prepping and imaging their specimens.

In-vivo experiments require an approved IACUC protocol.

* These probes have degraded functionality. Replacement probes are no longer available.
Location: CTAC Imaging Suite (MBI LG-164)