Molecubes Seminar
May 18, 2022 @ 12:00 pm

-

1:00 pm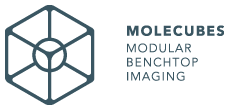 MOLECUBES welcomes you to join this session on modern in vivo rodent PET, SPECT and CT imaging and its uses in cancer research.
MOLECUBES is an innovative company developing and manufacturing benchtop preclinical imaging PET, SPECT and CT cubes enabling researchers to aim for high quality images supported by fast and simple workflows and intuitive wireless users' interface.
With high resolution and sensitivity, and high throughput capabilities, the MOLECUBES platform is ideal to non-invasively and quantitatively track cancer disease models and therapies.
For more info, please join us and have a look at www.molecubes.com