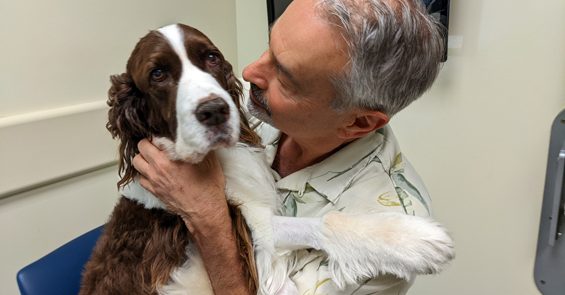 Dog treated successfully for botulism at UF
Dog treated successfully for botulism at UF
Nearly a month after being discharged from the University of Florida's Small Animal Hospital where he spent 30 days in the hospital's ICU being treated for a rare case of canine botulism, a 12-year-old, liver-colored English springer spaniel named Luke has a spring in his step as he recovers at home.
"Luke continues to gain back his strength, but he is doing really well," said Gareth Buckley, VetMB., a clinical associate professor of emergency and critical care at UF and chief veterinary officer for the UF Veterinary Hospitals.
On April 1, 10 days after his discharge, Luke's care team at UF saw him for a recheck appointment, during which X-rays and bloodwork were taken. All tests showed continued improvement, Buckley said, adding that Luke has continued to progress and is receiving ongoing rehabilitation therapy at a clinic near his home in Orange City, Florida.
Luke is believed to have contracted the deadly neurotoxin after he devoured a carcass on an island he regularly visits with his owner, Neal Almond.
When Almond arrived at the hospital on March 21 to pick Luke up, he was met with a surprise send-off, as faculty and resident veterinarians, technicians and students who had cared for Luke gathered in a hallway to cheer for the devoted pair as they emerged from a treatment area near the ICU.