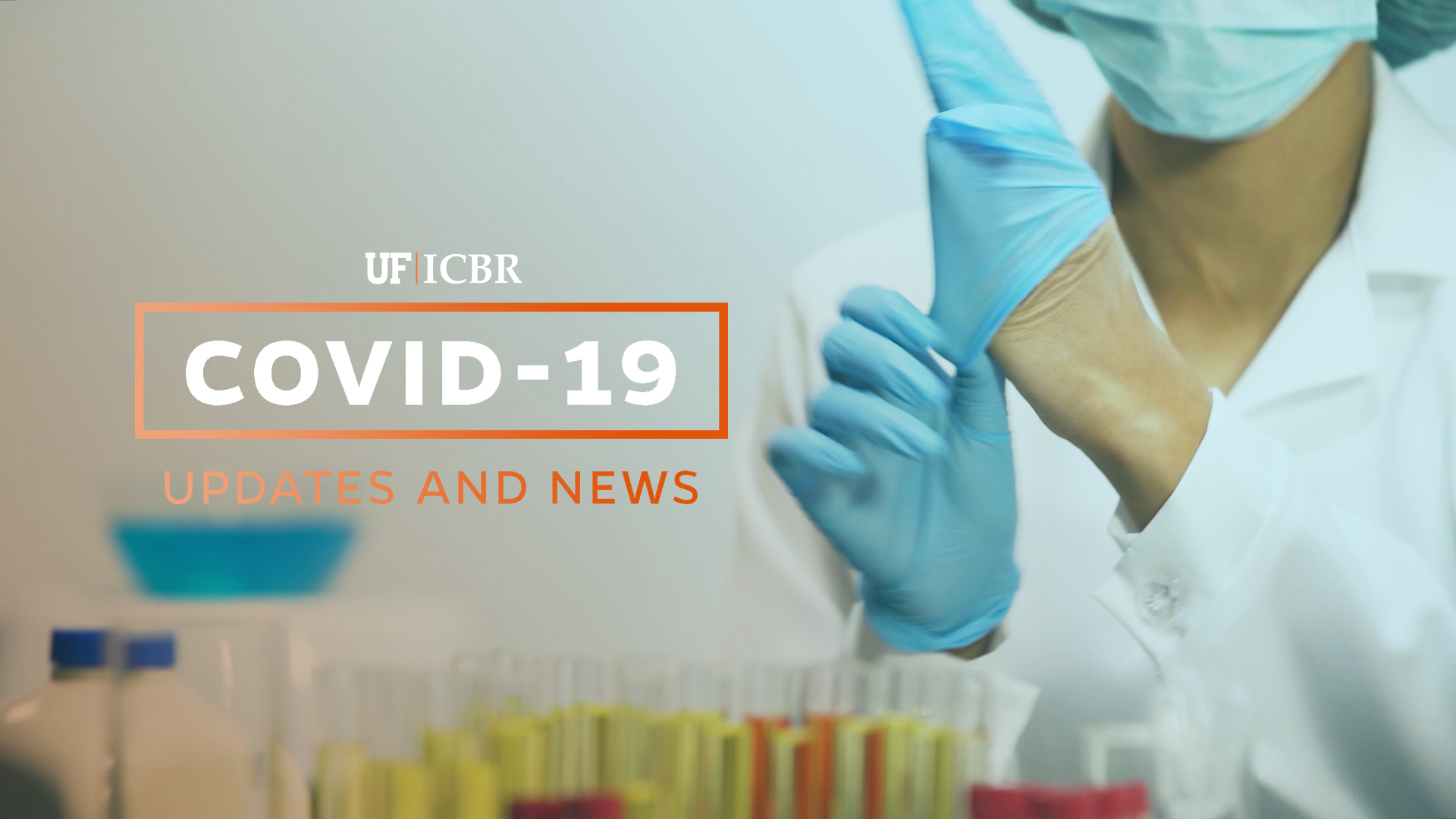 UPDATE: UF | ICBR Continues to Provide Support to UF Community
With the progression of recent events, there are a lot of questions about how it affects ICBR users. Please see below, important changes that could impact your experience at ICBR. These changes will be in place for the foreseeable future. Please refer back to this page for timely updates.
As always, check the UF dedicated site for campus-wide information and initiatives.
LATEST NEWS
[Updated: June 24th, 9:00am]
ICBR is now open, Monday through Friday, to support research on the University of Florida campus. Please be aware that the outer doors of the CGRC are still locked, so if you need access, call the ICBR reception desk at 352-273-8030.
However, our level of staffing remains somewhat reduced to help support social distancing on campus:

ICBR cores will be open to accept samples from 8:00 – 5:00 Monday through Friday; drop-off will continue to be managed through room CGRC 184 until a representative from the appropriate lab arrives to retrieve them.
ICBR Self Service and staff-assisted opportunities are being expanded; see below, and please contact specific Cores for details.
ICBR Staffing is at 75% to maximize social distancing, which could impact the time projects require for completion.

Again, please no not hesitate to reach out to us (ICBR-Contactus@ad.ufl.edu) or to individual Cores, with any questions.
Current Policies and Procedures Below:
Training and Self-Service
All visitors to ICBR are required to wear face coverings.
Training and staff-assisted operations are available in limited access. Please contact specific Core with respect to availability and guidelines. 
Self-service is available in limited access. Please contact specific cores with respect to availabilityand guidelines, including the logistics for entering ICBR spaces – for instance, Self-service users on the first floor of CGRC will be asked to wait inside room CGRC 184 until a representative from the appropriate lab arrives to walk them to their core.
Self-service will be limited to one user per instrument, and restrictions to the number of people who may occupy the laboratory space at any given time may also limit the number of instruments in use at any given time.
Sample Drop-Offs
For sample drop-off on the first floor of CGRC, users will be directed to wait inside CGRC 184. Front desk staff will notify the core and a representative from that core will meet you in CGRC 184 to collect the sample and direct you back to the front desk.
Customers, please label all samples with labels that can withstand an ethanol wipe down.
Other Important Notes
Consultations: Customer consultations will be conducted by Zoom or by phone until otherwise noted.
Limited Staff: ICBR will be operating with minimal staff for the foreseeable future. Please keep this in mind as it relates to turnaround times and service expectations.
Partner and Vendor Closures: As we receive more information from our vendors and partners about their respective closures, ICBR might be forced to suspend certain services. Please refer to the list below:

PacBio is closing for three weeks and NS will be unable to perform PacBio services.
Final Note
Most importantly, ICBR's first priority is the safety of our colleagues, the community we serve, and the people who call ICBR home. Thank you for your patience and understanding as we continue supporting UF research endeavors, while maintaining the best practices guided by the University of Florida.