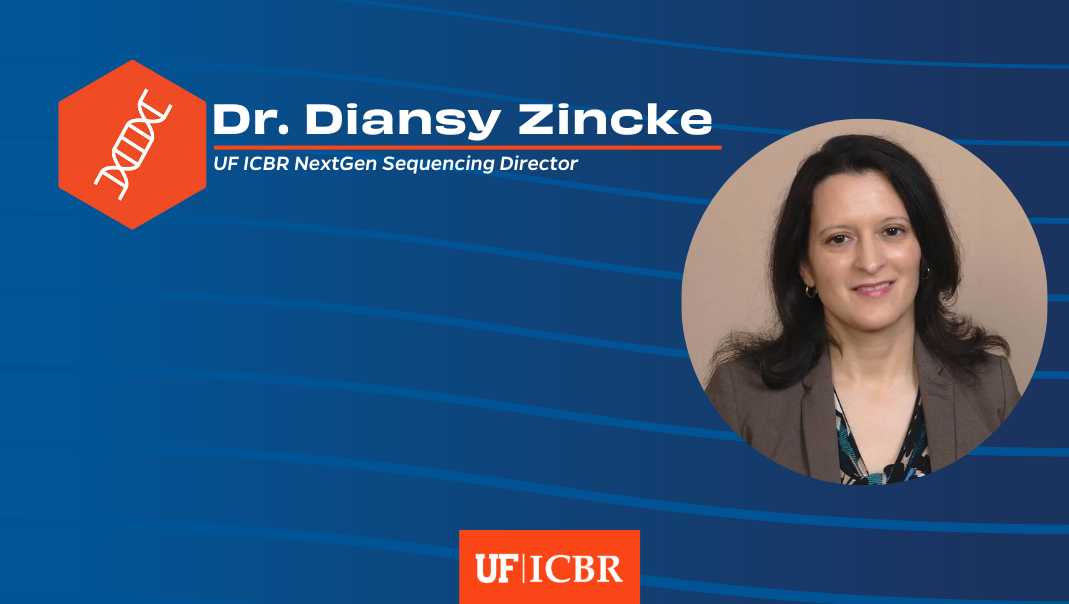 Dr. Diansy Zincke Named Scientific Director of ICBR NextGeneration DNA Sequencing
Dr. Diansy Zincke Named Scientific Director of ICBR NextGeneration DNA Sequencing
The University of Florida Interdisciplinary Center for Biotechnology Research (ICBR) recently announced the appointment of Dr. Diansy Zincke as the new Scientific Director of the Next Generation DNA Sequencing Core (NS). Dr. Zincke, who has been working with the ICBR since April 2021 as a Research Facility Specialist and Lab Manager, brings with her more than seven years of experience in the field of biology.
Dr. Zincke received a Bachelor degree in Biological Sciences and a PhD in Biology from Florida International University. Her graduate research focused on understanding the mechanisms of β-lactam resistance in the opportunistic pathogen Pseudomonas aeruginosa. Prior to joining ICBR, she worked as a Biological Scientist and Laboratory Manager at the UF Emerging Pathogens Institute, where she gained extensive experience in the detection and genotyping of zoonotic diseases such as Bacillus anthracis and Brucella.
"We are thrilled to have Dr. Zincke leading the NextGen Sequencing team; she is an innovative problem solver who is dedicated to ICBR and the University of Florida research mission."

Dr. Anna Lisa-Paul, ICBR Director
During her time at ICBR, Dr. Zincke has gained a wide range of experience in next-generation sequencing, including sample evaluation, fragment size selection, library construction, and sequencing run planning, instrument setup, and troubleshooting. She has also worked to test and implement new technologies and procedures, including leading a pilot project with 7 UF investigators aimed at exploring innovative applications of the Oxford Nanopore Technologies PromethION platform. In addition, Dr. Zincke provides project consultations to UF scientists and coordinates the recruitment, training, and supervision of laboratory personnel.
"Dr. Zincke will bring her extensive laboratory experience and passion for science in supporting the needs of UF investigators in short and long read sequencing technology."

Dr. Steven Madore, ICBR Associate Director for Science 
Dr. Zincke is excited to interact with new and current users of the facility in the coming year and then navigate their sequencing projects from sample submission to data delivery. She is also looking forward to growing in her new role as Scientific Director and learning about new technologies and applications in the field. Additionally, Dr. Zincke will continue to collaborate with the NS team and train new staff.
"The NovaSeq X Plus is the latest and most powerful sequencer from Illumina. In the coming months we will be working to implement this technology for the use of the UF research community. This will mean lower NovaSeq sequencing costs, faster chemistry, and lower library input."

Diansy Zincke, Ph.D., UF ICBR Director of NextGeneration DNA Sequencing
Dr. Zincke's extensive experience and academic background make her a valuable addition to the ICBR team, and her appointment as Scientific Director of the NextGen DNA Sequencing Core is sure to bring exciting developments to the field of biotechnology research at the University of Florida.