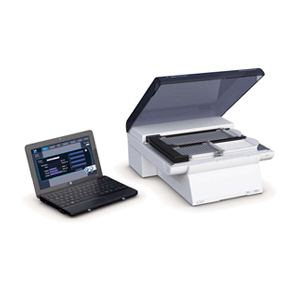 Agilent 3100 OFFGEL Fractionator
Pre-fractionation of proteins and peptides prior to LC/MS analysis can dramatically increase the number of proteins ultimately identified. The Agilent 3100 OFFGEL Fractionator uses a novel isoelectric focusing technique to achieve excellent pI-based fractionation. The resulting fractions are in solution, making recovery for LC/MS analysis much easier than with old-fashioned gels. Results are highly reproducible, and the Agilent 3100 OFFGEL Fractionator is simple and easy to use.
Comes with G3101A Control Module
S/N for main unit is 91700461
control module S/N is CN64400063
Features
State-of-the-art user interface for online control of each individual sample
pI-based OFFGEL fractionation with 0.1 – 0.6 pH resolution depending on consumable kit used
In-solution fraction recovery for easy transfer to LC/MS
Two power supplies allow simultaneous fractionation of two sample sets with broad differences in concentration
Simultaneous fractionation of up to 16 samples
µg to mg load capacity
Capable of running conventional in-gel IEF as well as OFFGEL fractionation
Preconfigured methods for OFFGEL and in-gel modes
Online current control for each individual sample
Simple, reproducible, and easy-to-use
Specifications
Line voltage: 100 – 240 VAC, ±10%, wide ranging capability
Line frequency: 50 – 60 Hz, ±5%
Power consumption: 140 VA
Ambient operating temperature: 5 – 40 ºC (41 – 104 °F)
Humidity: < 80% at 40° C (104 °F), non-condensing
Operating altitude: Up to 2000 m (6500 ft)
Safety standards: IEC, CSA, UL Installation Category II, Pollution Degree 2
Platform temperature: 10 ºC – 35 ºC, maximum 10 degrees below ambient, non-condensing
Power supplies: Two independent high voltage power supplies
Voltage-Range: 0.5 – 10 kV
Current-Range: 0 – 150 μA/strip
Power: 0 – 1 W/strip
Modes: Constant voltage, Constant current, Constant power
Timetable programmable
Individual current measurement for each sample
Fractionation capacity: 2 × 8 samples (12 or 24 fractions) in OFFGEL mode and IPG-IEF (in-gel) on 2 individual trays
Serial number: DE91700461
This equipment is being sold "as is, where is". It is encouraged that you inspect this equipment if possible.
Typically any warranty, service contract or license for the equipment is not transferable but may be under certain circumstances and will be explicitly stated in the listing. The written description provided for this equipment is what is being offered for sale. The photos provided are given to display the overall condition of the equipment and all items found in the photos may not be included in the sale. Some photos may be stock photos to get an idea of what is being offered for sale.
Any weights and dimensions provided in the listing are estimates so therefore you should not rely on them for the most accurate shipping quotation.
Brochure:
https://www.agilent.com/cs/library/brochures/5990-5596EN.pdf
More Instruments at UF | ICBR Proteomics & Mass Spectrometry