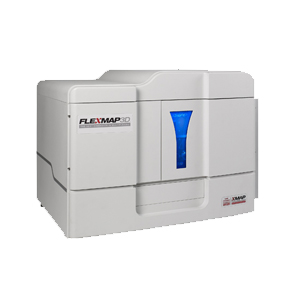 Key Features:

Multiplexing: Up to 500 analytes in a single sample
Dynamic Range (Typical): ≥4.5 logs
Read Time: 96-well plate in ~20 min (up to 144,000 tests/hour); 384-well plate in ~75 min (up to 153,600 tests/hour)
Daily Start-Up/Shut-Down: ~30 min

Let FLEXMAP 3D empower your research with:

Higher Throughput: Dual sample fluidics paths and increased sample injection speed result in a faster sampling rate. The FLEXMAP 3D system can process 384 samples and generate up to 144,000 data points in just over an hour.
High Plexing Capability: The FLEXMAP 3D is compatible with magnetic and non-magnetic microspheres and can discriminate up to 500 different microsphere sets. The platform offers a large menu of commercial kits and reagents to develop custom assays for a wide variety of applications including nucleic acid assays, immunoassays, receptor ligand assays, and enzymatic assays.
Automation/LIS Compatibility: xPONENT® Software controls the FLEXMAP 3D system and offers interfacing options for Laboratory Information Systems (LIS) and front-end automation platforms. The system accommodates 96 and 384-well plate formats for enhanced sample flexibility and increased throughput.
Reliability: The FLEXMAP 3D system has multiple features allowing walk away start-up, shutdown, and maintenance operations, and greatly enhances usability for High Throughput Screening (HTS) applications.
More Instruments at UF | ICBR Proteomics & Mass Spectrometry