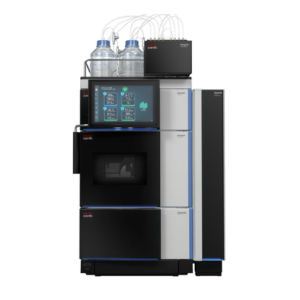 Description
The Vanquish Flex UHPLC System offers flexible separation solutions with its SmartFlow pumping technology that ensures excellent flow and gradient precision. It can handle pump pressures of up to 1000 bar and flow rates of up to 8 mL/min, making it an industry-leading choice for precision.
The Split Sampler FT module has a vial capacity of 216 samples, and its SmartInject technology ensures accurate sample dosage. The system's innovative air stream cooling maintains maximum sample integrity, and automated workflows with barcode reading make it easy to use.
The Vanquish Column Compartment H module ensures even temperature throughout the process, with two thermostatting modes and a temperature range from 5°C to 80°C. Its active pre-heating and post-column cooling features prevent performance loss due to temperature effects.
For versatile analyte detection, the Vanquish Flex system offers multiple detection options, including diode array detection, fluorescence detection, and charged aerosol detection for label-free detection of non-chromophoric substances.
The system integrates seamlessly with the award-winning Thermo Scientific™ Chromeleon™ Chromatography Data System (CDS), providing easy interaction and a new UHPLC experience. The Vanquish Flex system also utilizes Thermo Scientific™ Viper™ fingertight fittings, making it easy for users to make consistently perfect connections without any tools.
More Instruments at UF | ICBR Proteomics & Mass Spectrometry