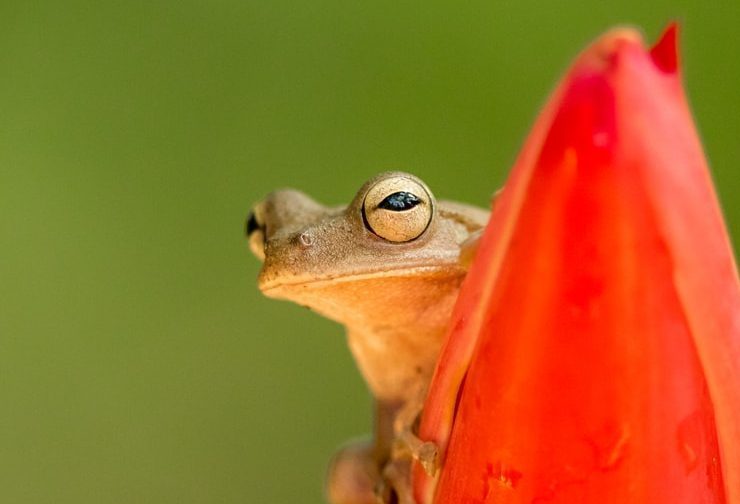 UF Study: Deadly Rat Lungworm Parasite has Spread to Invasive Cuban Treefrogs in Florida
University of Florida researchers report that the rat lungworm parasite, which can cause deadly disease in humans and in animals, has been found in a new host in Florida with its discovery in Cuban treefrogs, an invasive species.
The finding represents the first time an anuran — a frog or toad amphibian — has been identified as a host for the parasitic nematode in the state, although it has previously been identified in a variety of other hosts in Florida.
The frogs were found in Volusia County, where the rat lungworm had not previously been detected, the researchers said in a study published online Jan. 31 in the Journal of Wildlife Diseases.
"These frogs are going through the state, disrupting our native populations," said Heather Walden, Ph.D., an assistant professor of parasitology at the University of Florida College of Veterinary Medicine and the study's lead author. "They are eating native species, such as green treefrogs, and consuming not just the frogs and other food sources, but the parasites they carry with them."
Walden's laboratory examined 16 Cuban treefrogs from Volusia County for parasite species and confirmed the results by PCR. Her team recovered larvae from the rat lungworm, also known as Angiostrongylus cantonensis, from the frogs' hind leg muscles.
Other studies Walden's team has been involved in have documented the rat lungworm's presence in Florida in gastropods — snails and slugs — as intermediate hosts and in rats as definitive hosts, as well as in non-human primates. The parasite has previously been found in Miami-Dade, Orange, Hillsborough, Alachua, St. Johns and Leon counties.
"The Cuban treefrog is extremely abundant in residential areas in peninsular Florida, often seeking shelter around homes that put them in close contact with humans," Walden said. "If infected with parasites, this species' association with humans indicates they have great potential to serve as agents of zoonotic transmission and may also threaten pets that consume them."
---
Dr. Heather Walden is a user in UF | ICBR's Electron Microscopy core.