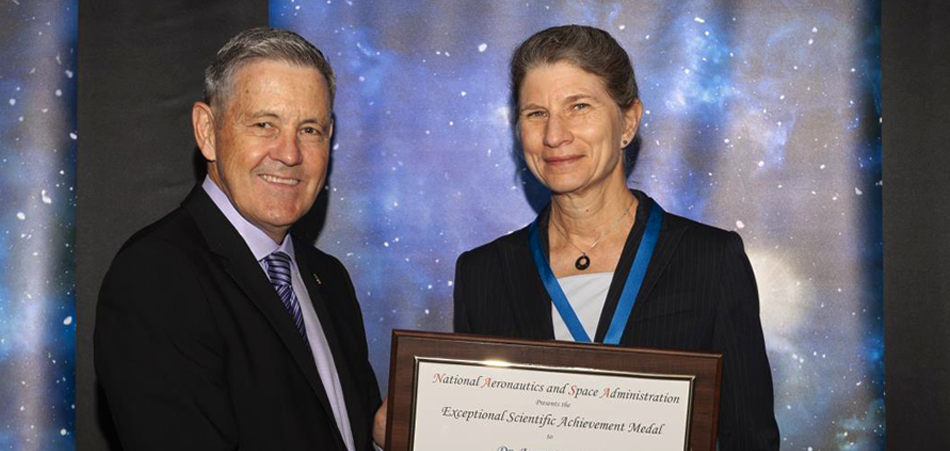 Dr. Anna-Lisa Paul receives NASA's Exceptional Scientific Achievement Medal
Congratulations to UF's Dr. Anna-Lisa Paul on receiving the NASA Exceptional Scientific Achievement Medal this past September! The prestigious award is reserved for individual efforts that are in line with NASA's mission and have resulted in considerable scientific discovery or resulted in contributions of fundamental importance in their field or significantly improved the understanding of their field.
Dr. Paul is the Interim Director at UF ICBR and Research Professor in the UF Horticultural Sciences, and is also on the faculty of UF's Program in Plant Molecular and Cellular Biology, and the Genetics Institute. Dr. Paul was recognized for her work suggesting that genetic manipulation can produce plant varieties better adapted to growth in microgravity by eliminating unnecessary environmental responses.
When asked about the honor, Dr. Paul remarked, "When I received the call from Marybeth Edeen (head of the ISS Research Integration Office), I was quite literally speechless; there must have been a sufficiently long silent pause on the phone for her to prompt 'hello?' But I did finally manage to tell her that I was very honored to be selected. It is a particularly special award as it takes the support of all those people you have worked with over the years to move science forward. Working in the field of space biology is a tremendous reward in itself, but made even more so by the people with whom we share the journey "
Dr. Paul joins an elite club; since 1962, the medal has been awarded to the brightest and most prominent in their field, including four Nobel Laureates.
For more information about Dr. Paul's work and the UF Space Plants Lab, please visit: http://ufspaceplants.org/