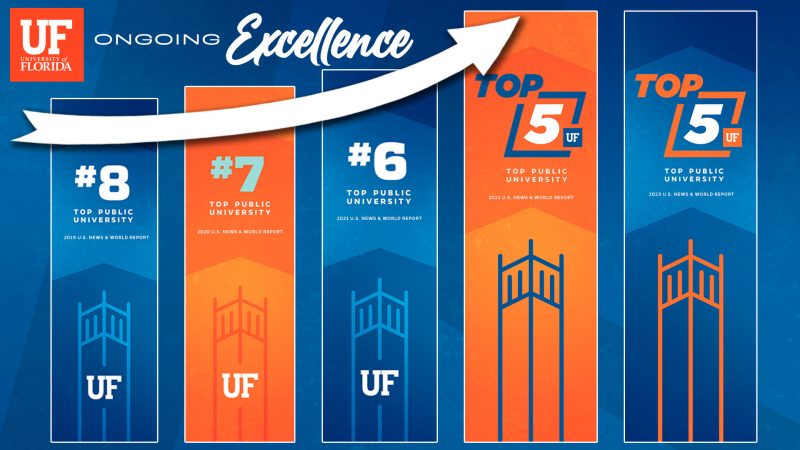 Repeat performance: UF again ranked No. 5 among public universities by U.S. News & World Report
Repeat performance: UF again ranked No. 5 among public universities by U.S. News & World Report
UF News
For the second year in a row, the University of Florida is listed as one of the top five public research universities in the nation, according to the 2023 Best Colleges rankings released today by U.S. News & World Report.
The No. 5 recognition reaffirms UF's status as an academic powerhouse in research, innovation, educational excellence, student outcomes and technology transfer. It acknowledges the university's positive impact on student's lives and on the economic vitality of the state, the nation and the world. And it demonstrates the return on the investment in UF's students, faculty and staff by Gov. Ron DeSantis, the Florida Legislature, the state's congressional representatives, the board that oversees the State University System and the UF Board of Trustees.
The 2023 top five public universities are grouped in three tiers: UC Berkeley and UCLA tied at No. 1; Michigan and Virginia tied at No. 3, and UF and the University of North Carolina,-Chapel Hill tied at No. 5. The top-five group also has become smaller; last year, UF was in a three-way tie with UNC-Chapel Hill and UC Santa Barbara.  
UF's No. 5 ranking in 2022 marked a climb of nine spots on the public university list since 2017.
UF's reputation score of 3.8, a key metric in the ranking analysis, remained unchanged from last year. In addition, UF's alumni annual giving rate, another key metric, climbed from 14% last year to 19% this year.
"On behalf of the board, I want to express our deepest gratitude to all the many stakeholders who contributed to this exceptional advancement, including faculty, staff, students, alumni and donors, as well as the Legislature and the governor for their ongoing support," said Mori Hosseini, chair of UF's Board of Trustees. "UF's position in the rankings is reflective of our continual, rapid strengthening in teaching, learning and research performance — smaller class sizes, consistently high graduation and retention rates, and the increased value of each student's degree after graduation—all of which in turn helps Florida be viewed as a national leader."
This is a banner year for UF in academic and research achievements. The university announced in July it reached $1 billion in annual research spending, a milestone that places UF among a preeminent group of about 15 public research universities nationwide. In May, Heartland Forward ranked UF No. 1 among public universities in moving research innovations from the lab to the marketplace; its analysis included invention disclosures, licensing income and startups formed and relative number of STEM graduates. And in January, U.S. News & World Report…read more
---