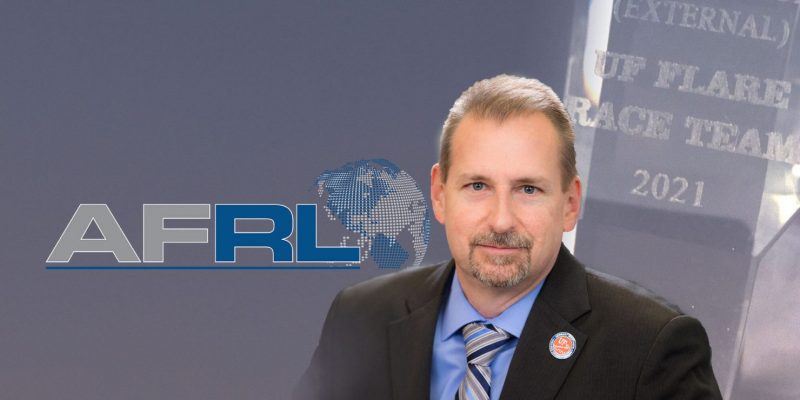 UF Engineering Research Team Receives High Distinction for Delivering First of a Kind Department of Defense Solution
A team of UF researchers from the Florida Applied Research in Engineering (FLARE) program — the applied and classified research arm of the Herbert Wertheim College of Engineering — was presented the AFRL Corporate Award in the category of External Support by the Air Force Research Laboratory's (AFRL) Munitions Directorate for their exemplary technological expertise, customer service, and quick development and deployment of a secure research and collaboration infrastructure and capability that is critical to AFRL's need for flexibility to respond to new challenges outside Florida's Eglin Air Force Base.
The AFRL is a scientific research organization operated by the Air Force Material Command, headquartered at Wright-Patterson Air Force Base, that partners with world-class engineers, scholars, and researchers to find groundbreaking solutions that advance the military preparedness of the United States.
Richard Vigeant, FLARE Director and Regional Advancement and Capability Enhancement (RACE) Program Manager, received the inscribed, crystal trophy from the Commander of the Munitions Directorate, Colonel Woodrow Anthony Meeks, at a ceremony held January 6. The project team also includes fellow UF engineering faculty David Bragg (FLARE National Security Program Area Lead) and Leon Leath (FLARE Activity Security Manager).
The project team created a secure regional research and collaboration infrastructure and capability that is the first of its kind, not only for Eglin Air Force Base, but for the Department of Defense (DoD) as well. The aptly named RACE team worked around-the-clock for nearly a year, with no drop in capability, to overcome supply-chain challenges to deliver the solution under the first of many anticipated and related projects.
"RACE is the Munitions Directorate's first-ever competitively selected Cooperative Agreement, awarded for five years with a ceiling of $19 million to partner on task-order-based research and development," Vigeant, said. "Being honored in this way for RACE Task 1 is an acknowledgment that our Munition Directorate partner is receiving a valuable return on their investment. It shines a light on the ability of our UF project teams to engage FLARE's expertise in meeting the security and technological needs, fixed budgets, and tight deadlines of clients and entities with very high research and development expectations."
---