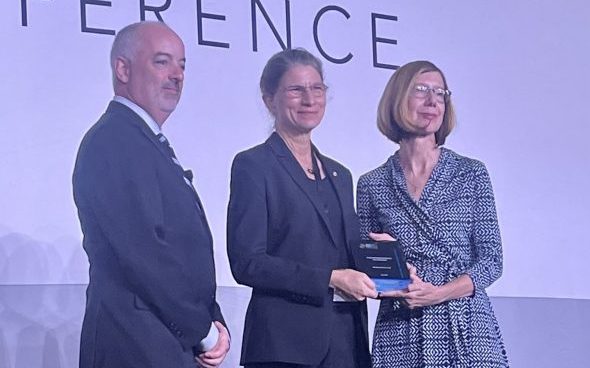 ICBR's Dr. Anna-Lisa Paul Recognized at ISSR&D 2022
ICBR's Dr. Anna-Lisa Paul Recognized at ISSR&D 2022
ICBR Director Dr. Anna-Lisa Paul was recognized at this past July's International Space Station Research & Development Conference, and received  the 2022 International Space "Compelling Results Award" for groundbreaking contributions to plant space biology.
"I am very honored to have the contributions of our research recognized with this award," said Dr. Paul. "The ISS R&D Compelling Results awards are special to scientists in the space research community as the award focuses on the science that comprises the advancements contributing to the growing body of knowledge of what it takes to explore extraterrestrial environments. So it is not really a solitary award; as NASA likes to say, 'it takes a team to launch a dream,' and it is indeed the continuing efforts of the UF Space Plants team that keeps us on the cutting edge of plant space biology and exploration research."
Dr. Paul co-leads the UF Space Plants Lab in the Institute of Food and Agricultural Sciences, focusing on growing plants in space environments. Plants are sent aboard the International Space Station to learn how biology reacts in microgravity. The lab then uses technology to identify the effects of space flight on plant biology. Astronauts aboard the Space Station take both macroscopic and microscope images of the plants as they grow, while the lab members on Earth monitor the experiments.
It is not the first time Dr. Paul has received this special honor, accepting the same recognition in 2015 alongside fellow Space Plants Lab PI, Dr. Robert Ferl. For more information about Dr. Paul and the UF Space Plants Lab, please click below.
---
---