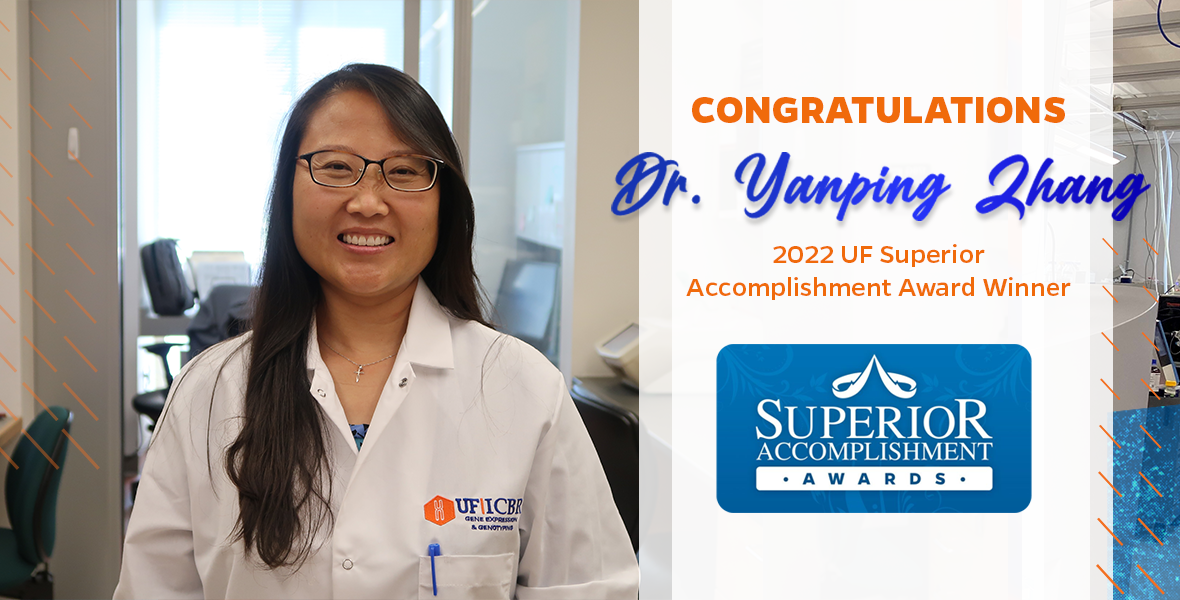 ICBR's Dr. Yanping Zhang wins 2022 Superior Accomplishment Award
Director of ICBR's Gene Expression & Genotyping core, Dr. Yanping Zhang has been recognized as winner of the 2022 Superior Accomplishment Award!
On February 16th, Dr. Zhang joined hundreds of other nominees for this prestigious recognition of her work. The Superior Accomplishment Award (SAA) program recognizes faculty and staff members who contribute outstanding and meritorious service, efficiency and/or economy, or to the quality of life provided to students and employees. Recognition by one's peers is the highest point of achievement.
Dr. Zhang was nominated in the SAA's Scientific/Technical category by Dr. Anna-Lisa Paul, ICBR Director, and Dr. Steven Madore, ICBR Associate Director of Science, for demonstrating her ingenuity and expertise in advancing crucial Covid-19 research at UF.
"In the past 18 months, ICBR has faced unprecedented challenges in supporting the research endeavors of UF faculty in the midst of pandemic-associated constraints," Dr. Paul shared, "But in spite of limitations of personnel time and occupancy (especially early in the pandemic), and the greater demand for the capabilities and services of her core to analyze the emerging COVID variants, Dr. Yanping Zhang and her core facility has excelled. Yanping and her team found ways to optimize efficiency in her routines to handle mega projects looking at the distribution of COVID-19 lineages across the state of Florida."
"I am really flattered to receive this reward. I want to say thanks to Brandon Pate, who physically processed the Covid-seq samples in the Gene Expression & Genotyping core, Dr. David Moraga, and his team members for processing the sequencing run, and Dr. Alberto Riva for data analysis. I also want to say thanks to Dr. Salemi's group for giving us the opportunity be part of their research, and the leadership and recognition from our Director, Dr. Anna-Lisa Paul and Associate Director for Science, Dr. Steve Madore.

It was truly teamwork!  ICBR is a place that makes things happen, and I am happy to be a part of the team, working to make a positive impact on our society!" – Yanping Zhang
"This award acknowledges Dr. Zhang for her work on developing and validating the miniaturization of the Covid-19 whole genome sequencing library prep protocol to meet the demands of a research project led by EPI investigator Dr. Marco Salemi studying Covid 19 variant spread in Florida," Dr. Madore remarked, "Dr. Zhang showed initiative and creativity in developing a novel approach and made a significant contribution in enabling the research study of a University of Florida researcher."
"Working with Brandon Pate, Dr. Zhang led the process for modifying an existing library generation method onto the mosquito® and dragonfly® nanoliter liquid handling instruments, resulting in a reduction in the amount of reagents required," Madore continued, "Through this effort she was able to deliver on the ICBR's commitment to increase sample throughput — from 96 samples per week to 768,  and reduce per sample cost from $55 to $11.  The work of Dr. Zhang and Brandon enabled the rate limiting step in pipeline to meet the weekly sample throughout and per sample cost required to initiate this CovidSeq project."
"Over the past two years my group has been actively involved in the molecular epidemiology monitoring of SARS-CoV-2 in Florida and worked in close collaboration with Dr. Zhang and ICBR to develop an efficient high-throughput next generation sequencing pipeline for the generation of full genome coronavirus sequences. Thanks To Dr. Zhang extraordinary work, our genomic surveillance has been extremely successful and provided key scientific and epidemiology findings that have already resulted in high impact publications in journals such as Nature and Clinical Infectious Diseases. The processing of such a large volume of samples in a cost-effective manner, and the important scientific results that followed could not have been accomplished without the efforts, persistence, and expertise of Dr. Zhang." – Dr. Salemi