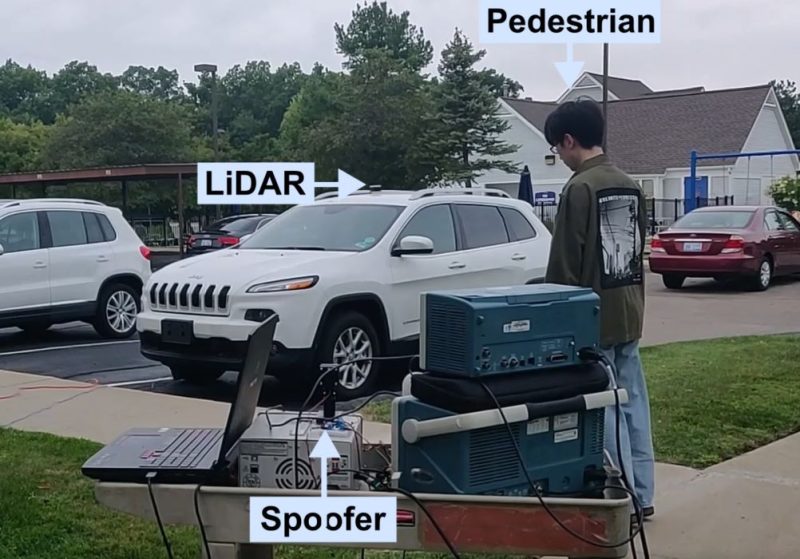 Laser attack blinds autonomous vehicles, deleting pedestrians and confusing cars
Laser attack blinds autonomous vehicles, deleting pedestrians and confusing cars
Self-driving cars, like the human drivers that preceded them, need to see what's around them to avoid obstacles and drive safely.
The most sophisticated autonomous vehicles typically use lidar, a spinning radar-type device that acts as the eyes of the car. Lidar provides constant information about the distance to objects so the car can decide what actions are safe to take.
But these eyes, it turns out, can be tricked.
New research reveals that expertly timed lasers shined at an approaching lidar system can create a blind spot in front of the vehicle large enough to completely hide moving pedestrians and other obstacles. The deleted data causes the cars to think the road is safe to continue moving along, endangering whatever may be in the attack's blind spot.
This is the first time that lidar sensors have been tricked into deleting data about obstacles.
The vulnerability was uncovered by researchers from the University of Florida, the University of Michigan and the University of Electro-Communications in Japan. The scientists also provide upgrades that could eliminate this weakness to protect people from malicious attacks.
The findings will be presented at the 2023 USENIX Security Symposium and are publicly available online.
Lidar works by emitting laser light and capturing the reflections to calculate distances, much like how a bat's echolocation uses sound echoes. The attack creates fake reflections to scramble the sensor.